Mortgages for Actors: A Comprehensive Guide
Getting Mortgages for Actors can seem daunting. You may have gaps between your contracts, but you do have options. Check out our Actor Mortgage FAQ below.
You voluntarily choose to provide personal details to us via this website. Personal information will be treated as confidential by us and held in accordance with GDPR May 2018 requirements. You agree that such personal information may be used to provide you with details of services and products in writing, by email or by telephone. By submitting this information you have given your agreement to receive verbal contact from us or one of our trusted partners to discuss your mortgage requirements
Being an actor can be a challenging and unpredictable career, with varying income streams and unique financial circumstances. However, this shouldn't stop actors from pursuing their dream of owning a home. With the right information and preparation, actors in the UK can secure a mortgage and make their dream a reality.
This comprehensive guide covers everything actors need to know about obtaining a mortgage in the UK, including important tips, the mortgage application process, and specific programs designed for the creative community.
Can you get mortgages for Actors and Entertainers?
There's not actually specific Actor Mortgages, as an Actor you have access to the same products as everyone else. That said, there are products and lenders that will fit better for your situation.
This may mean that your required lender is not on the High Street.
Do lenders understand how my job works?
As an Actor your job isn't new, but it can be complicated for a Lender. Whilst they know what you do, they may not understand how you do it.
Actors often have contracts that may make it difficult for some lenders.
How is an Actor Paid?
There are a few different ways you get paid when you're an Actor. If you have a large recurring role on a television show you may have a longer term contract. You may work on a daily rate basis as a contractor. Depending on how you work you may be paid differently and you may be eligible for different types of mortgage.
You may also have different revenue streams from Live events/ticket sales or Merchandise which will make your income even more complicated.
However, many lenders understand these different income streams and can take them all into account.
How Do Mortgage Lenders Treat an Actor's Income?
This depends on how you set yourself up, and your type of contracts. You may be a contractor working short contract 3/6/12 months, or a rolling contract. This actually can work in your favour and allow you to borrow higher sums.
It's slightly different if you are a Sole trader or Limited Company Director. Generally lenders will want to see your latest years tax calculation and tax year overview, most will want 2 years worth. Some lenders are happy with taking your salary and dividends or net profits.
Can you get mortgages for actors with 1 years accounts?
If you have 1 year of accounts it is slightly harder to get an Actor mortgage. Having 2 or 3 years accounts would be ideal.
The good news is that whilst you may find it more difficult to get Actors or Entertainers Mortgage with 1 years accounts, it's still very much possible! We have an article on this here.
Can you be an actor and pay a mortgage?
Absolutely! Actors can take out a mortgage, and of course pay it. You are probably self employed which is a hurdle itself. Added in short term contracts potentially and things may get complicated. Speak to a specialist mortgage advisor about it first.
How much deposit will you need?
Most mortgages require a minimum 5% deposit. However, it will depend on your individual situation. The Help to buy scheme has now ended for new applications. However, you now have the government first homes scheme and the deposit unlock scheme which allow you to get a mortgage with a smaller deposit on eligible New Build properties.
How can you improve your chances of getting mortgages for Actors when you're self employed?
Speak to a mortgage broker, they can find the right lender to suit your situation and therefore get you the best deal.
Have a chartered accountant prepare your accounts – Lender's like this a lot.
Check your credit rating, there's lots of free services out there.
Save as much deposit as you can.
Can you get mortgages for Actors with Bad Credit?
You can usually get an Actor Mortgage with Bad credit. Depending on what is is, when it was registered, and how much it is you will have options. However if you have some Bad credit and want some more information there is an article here.
Can First Time Buyers Get Mortgages For Actors?
Absolutely! Being an Actor your income may be complicated, and as a First time buyer it may be overwhelming. However you still have options, it will depend on a lot of variables and very from Lender to Lender. Best to speak to a specialist advisor to get more information.
What documents do I need for Actor Mortgages?
The documents needed for mortgages for actors will vary, however they generally always include:
| | |
| --- | --- |
| Proof of ID | Lots of lenders and brokers conduct electronic ID checks now, this usually involves a soft footprint on your credit file. However, some lenders may still require you to get your Physical ID certified. |
| Proof of Income | This could be payslips if you receive them, or possibly payment slips from your Agent even if you pay the Tax. If you do not have a long term contract it could mean your latest Tax Year Overview and Tax Calculation. Some lenders require 2, or even 3 years of Tax Calculations. |
| Bank Statements | Almost all lenders will need to see 3 months bank statements, or at least the latest month. Most brokers will go through your last 3 months before submitting to a lender. |
What Are The Different Types Of Mortgages For Actors?
There are thousands of different mortgage products available to Actors. However, they generally fit into one of the following categories.
Fixed rate mortgages for Actors

A fixed rate mortgage will have a fixed interest rate for a set period of time. This is usually 2, 3 or 5 years but could be over a longer period.

This is beneficial to most people as it means that your monthly payments will remain the same over that fixed rate period. Allowing you to plan your future outgoings.

This type of mortgage often has an early repayment charge if you try and leave the mortgage during the initial period.

Variable rate mortgages

Many types of mortgage fall into this category such as discount, capped, collared and standard variable rate mortgages.

These all have their own quirks. However, they all work in a similar way. The monthly interest rate will vary depending on either the lenders standard variable rate or the bank of England base rate.

This therefore means that your payments can potentially go up or down each month. This can be a risk, however they are usually priced lower than fixed rates, and often do not have early repayment charges.
What if You didn't make much money during Covid or took government support?
It is perfectly normal not to have made much money during Covid-19, or to have taken government support. As an Actor it had a massive impact on your income. Some lenders will take SEISS grants as income, others will ignore the pandemic year entirely as they are completely aware that you could not work much during that time.
If your income was affected by Covid we highly recommend speaking to a specialist mortgage advisor that can tell you what your options are.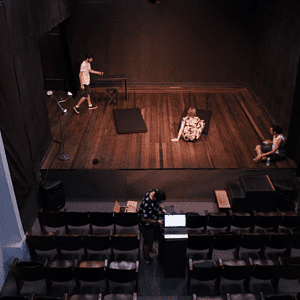 Understanding Mortgages for Actors in the UK
A mortgage is a loan taken out to purchase a property. In the UK, borrowers typically pay back the loan over a period of 25 to 35 years, although this can vary depending on the lender and the type of mortgage. The loan is secured against the property, meaning that the lender has the right to repossess the property if the borrower fails to repay the loan.
The Mortgage process for Actors
The mortgage process can be complex, and it's important for actors to understand their financial situation and to prepare properly before applying for a mortgage. This includes knowing their credit score, understanding their income and expenses, and being aware of the deposit required for the property they wish to purchase.
Tips for Obtaining a Mortgage as an Actor in the UK
Show Proof of Income: Actors often have varying and unpredictable income streams, which can make it difficult for lenders to assess their ability to repay a mortgage. To overcome this, actors should provide a complete overview of their income, including their acting income, any rental income, and any other sources of income they may have. This can help to demonstrate their ability to repay the mortgage and improve their chances of being approved.

Improve Your Credit Score: A good credit score is essential when applying for a mortgage in the UK. Actors with a low credit score may struggle to find a lender willing to offer them a mortgage, or may be offered a mortgage with higher interest rates. To improve your credit score, you should make sure you pay all of your bills on time, avoid applying for too much credit in a short period of time, and keep your credit card balances low.

Consider a Joint Mortgage: If an actor's income is too low to qualify for a mortgage on their own, they may consider taking out a joint mortgage with a partner or family member. This can help to improve the chances of being approved for a mortgage, as the lender will take into account the combined income of both parties.

Save for a Deposit: In the UK, most lenders require a deposit of at least 5% of the property's value, although some may require a higher deposit. Actors should start saving as soon as possible for a deposit, as this can help to reduce the amount of the mortgage and the interest rate charged on the loan.
The Mortgage Application Process for Actors in the UK
Choose a Lender: Actors should research different lenders and compare the mortgage products they offer to find the best option for their circumstances. They should consider factors such as the interest rate, the deposit required, and any fees associated with the mortgage.

Gather Documentation: To apply for a mortgage, actors will need to provide the lender with a range of documentation, including proof of income, proof of identity, and proof of address. They should also provide details of any debts they may have and a list of their expenses.

Complete a Mortgage Application: The mortgage application process will typically involve completing a form, providing the required documentation, and undergoing a credit check. Actors should ensure they provide accurate information and should be prepared to answer any questions the lender may have about their financial situation.

Arrange a Property Survey: Before the mortgage is approved, the lender will typically arrange for a survey of the property to be conducted. This is to assess the condition of the property and to determine its value. The surveyor's report will be used by the lender to determine the amount of the mortgage they are willing to offer.

Receive a Mortgage Offer: If the mortgage application is successful, the actor will receive a mortgage offer from the lender. This will include details of the mortgage amount, the interest rate, and the repayment terms. The actor should carefully review the offer and ask the lender any questions they may have before accepting it.

Complete the Purchase: Once the mortgage offer has been accepted, the actor can complete the purchase of the property. They will need to pay the deposit and arrange for a solicitor to carry out the legal work. The solicitor will ensure that the title to the property is transferred to the actor and that all necessary checks and searches are carried out.
Special Programs for Actors in the UK
There are a number of special programs designed specifically for actors in the UK, aimed at helping them to secure a mortgage. Some of these programs include:
Creative Sector Mortgages: This is a specialist mortgage program for people working in the creative industries, including actors. The program offers flexible terms and conditions, taking into account the unique financial circumstances of those working in the creative sector.

Shared Ownership Schemes: This is a scheme where actors can purchase a share of a property and pay rent on the remaining share. This can help to make homeownership more affordable for those with a low income.

JBSP Mortgages – This scheme allows you to use a family members income to increase the amount you may be able to borrow. JBSP mortgages can be great at helping you get on the ladder, especially early in your career.

Help to Buy Schemes: This scheme has unfortunately now ended for new applications.
Conclusion
Obtaining a mortgage as an actor in the UK can be a challenge, but with the right information and preparation, it can be a reality. Actors should take the time to understand their financial situation, improve their credit score, and gather the necessary documentation to apply for a mortgage. They should also consider special programs such as Creative Sector Mortgages and Joint Borrower Sole Proprietor (JBSP), which can help to make homeownership more affordable. With these tips and resources in mind, actors can successfully secure a mortgage and achieve their dream of owning a home.
Got a question on Mortgages For Actors we didn't answer? Maybe we answer it on our main
Self employed page
, if not get in touch!