The Ultimate Guide to a Million Pound Mortgage
Welcome to the Million Pound Mortgage guide. The Definitive guide to getting a Million Pound Mortgage.
Can you get a million pound mortgage?
There are lenders available that offer mortgages of this size on a regular basis. You have multiple options including:
Private Banks
Conventional Lenders
We'll talk about both options for million pound mortgages in this article. Generally speaking you will likely be looking at a more conventional lender.
Conventional lenders have been increasing their lending at this level over time, and now it can be quite common to get a mortgage on a million pound house via a conventional lender on the high street.
What types of Million Pound Mortgages are available?
There are lots of types of mortgages available today, and they all serve different purposes and have different pros and cons.
Fixed Rate Mortgages – This type of mortgage, often offered by high street banks, offers a fixed interest rate for a set amount of time. This therefore means that your monthly payments are stable and you can predict your monthly outgoings. These mortgages often come with an early repayment charge, meaning that if you try and leave during this fixed rate period you may have a penalty to pay.
Variable rate mortgages – These vary depending on the lenders standard variable rate or the bank of England Base rate. This means that your monthly repayments on your mortgage may go up or down depending on what is going on with those interest rates. Whilst this doesn't sound ideal, these products often have no Early repayment penalties, and therefore are often more flexible.
Interest Only Mortgage – This type of mortgage is becoming less popular for residential mortgages as they now require a solid repayment strategy. However, in theory you could have a mortgage on an interest only basis, where you do not repay the balance and just clear the interest each month.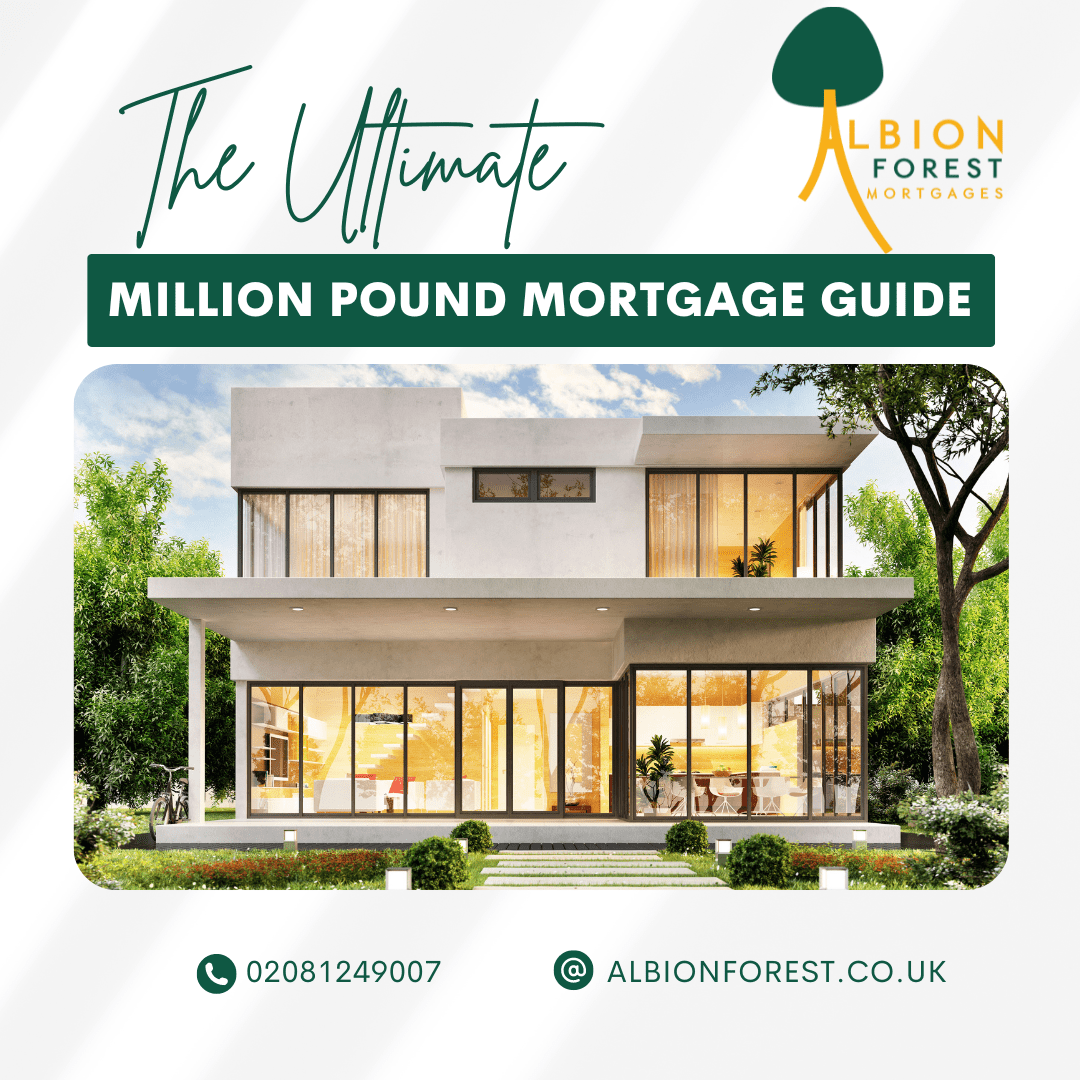 How much income will you need?
There are a lot of factors that will go into calculating how much income you need. A private bank will be more flexible with this, as they generally assess on a case-by-case basis.
For a conventional mortgage lender the normal amounts are between 4.5 and 6 times your income. However, if you have dependants or outgoing commitments this may affect the amount you can borrow.
What types of income do lenders use for million pound mortgages?
This will largely vary, depending on the lender, but some lenders will take all kinds of income into account:
Salary
Bonus
Commission
Benefits
Pension
and more…
How much deposit will I need for a Million Pound Mortgage?
If you go over the million pound purchase price you may find some lenders won't allow you to go above 80% LTV (The amount of your mortgage, compared to the property value)
However, some lenders may let you put down a deposit similar to that of any mortgage. This would generally be over 5% of the value of the property.
In order to do this you would likely need a very strong application. The lender is putting a lot of money in one place and they will want to be sure there are no potential problems that could arise.
High Street Bank vs Private Bank for a Million Pound Mortgage
Each will have its pros and cons. Which is best for you will ultimately be different for each of us. However, there are some obvious advantages of each you should be aware of.
High Street Lenders
Easier to find – You may even be able to find one yourself to take your case without a mortgage broker. However, with such a large mortgage we would highly recommend using a specialist Million pound mortgage broker.
Simple – They often have a more simple application process. For example they will have set documents they require, and probably less underwriting.
Lower fees – Potentially the high street lenders will have lower fees than a private bank.
Private Bank
More flexible – Each mortgage is usually assessed on a case by case basis, and offers more flexibility to your situation. Whereas a high street bank will have strict rules and calcuations, a Private bank will likely assess your situation more personally.
Higher lending – They may be willing to lend you more than a high street lender. This is because they won't be restricted by the banks income multiples like a High street bank.
This is what they do – They likely specialise in mortgages like this. Meaning they (like us) do this all day every day. This will make them very efficient at the job.
Getting a Mortgage on a Million Pound House
If you are getting a mortgage on a million pound house you likely don't need a million pound mortgage. You should find this easier to do, especially if you have a bigger deposit.
You should likely follow our guides on how to get a million pound mortgage and you shouldn't go far wrong.
What documents do I need for Million Pound Mortgages?
If you go to a Private Bank they can ask for whatever they want. So they might ask for more than a conventional lender. However, if you use a High Street Bank you can expect them to ask for:
Income evidence – This will likely be payslips (Probably 3 months worth) or Tax Calculations and tax year overviews if you are self employed.
Proof of Address – You will need to prove your address history, usually over the last 3 years
Identification – Normally you will be required to provide some form of ID such as a Passport or Driving Licence.
Proof of Deposit – You will need to prove you have the rest of the money required for the mortgage. This is usually either 3 months of bank statements for the deposit funds, or if you already own the property it would be a mortgage statement from your current lender.
2 Million Pound Mortgage
Getting a 2 Million Pound Mortgage will likely be similar to the information we have provided for a million pound mortgage. There may be extra deposit required potentially, and you may be more limited by lenders at this level. However, you should still be able to find high street lenders for a 2 million pound mortgage.
Got a question on a million pound mortgage we haven't answered? Get in touch.