Sole Proprietor Joint Mortgage Solutions
A sole proprietor joint mortgage or Joint Borrower sole proprietor (JBSP) mortgage lets you borrow more using a family members income.
You voluntarily choose to provide personal details to us via this website. Personal information will be treated as confidential by us and held in accordance with GDPR May 2018 requirements. You agree that such personal information may be used to provide you with details of services and products in writing, by email or by telephone. By submitting this information you have given your agreement to receive verbal contact from us or one of our trusted partners to discuss your mortgage requirements
What is a Sole Proprietor Joint Mortgage?
A sole proprietor joint mortgage or JBSP mortgage allows you to add extra people onto your mortgage for affordability, without them owning the property. This can be potentially beneficial in terms of stamp duty liability, and lenders may not class the property as a second home.
Usually lenders want to see a situation where you will eventually take the non-proprietor off the mortgage and be able to afford it on your own.
What is a proprietor?
A proprietor is just another word for home-owner. It refers to the people that actually own the property.
This means that you may be on the mortgage using this scheme, but without being a homeowner. This is beneficial for various reasons, such as:
Reduced stamp duty liability

Lenders do not view the property as second home

The non-owner is not responsible for the property
The last point here is important, whilst the non-proprietor on a sole proprietor joint mortgage is not responsible for the property, they are jointly responsible for the mortgage. This means that if the owner of the property doesn't pay the mortgage you are also responsible for it.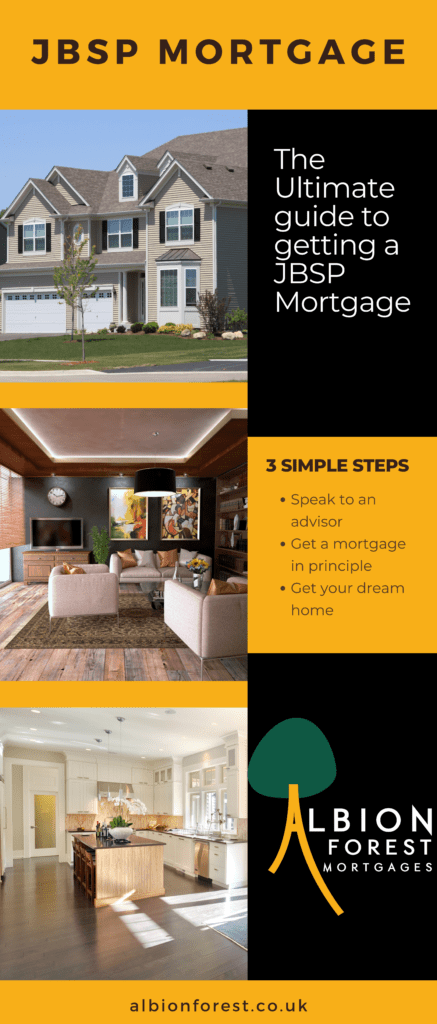 Who can get a Sole Proprietor Joint Mortgage?
Whilst the scheme is usually used by first time buyers, it is not solely for their use. In theory anyone could take advantage of the sole proprietor joint mortgage scheme. It can even be used by parents to add their children onto the mortgage for affordability purposes.
The main thing most lenders will look for is a way for the sole proprietor to be able to afford the mortgage on their own in the future!
How much deposit for a sole proprietor joint mortgage?
The minimum deposit required for this scheme is 5%, however this is not the case with all lenders and you may find with some JBSP mortgage lenders that they have a minimum deposit requirement of 10-20%.
You should therefore do plenty of research before approaching a lender, or alternatively speak to a specialist mortgage broker that can help.
Who can be the non proprietor?
The people that can be non-proprietor on the mortgage application will vary depending on the lender that you apply to. However, across the lenders you may be able to use:
Parents

Children

Siblings

Aunts/Uncles

Brother-in-law/Sister-in-law

Spouses/Civil Partners

Cousins (less likely)

Friends (less likely)
What is the maximum age for a sole proprietor joint mortgage?
Most lenders have a maximum age at the end of the term of the mortgage of 70. This means therefore that if your eldest applicant is 60 at application stage, you likely can only get a mortgage term of 9 years.
However, some lenders may allow you to go up to age 80 or 85. Some lenders even allow you to borrow based only on the proprietor's age, which is usually younger.
Can I use sole proprietor joint mortgage on any schemes?
Generally sole proprietor joint mortgages are not compatible with other schemes such as shared ownership or First Homes. If you need a bit of help with these schemes you should speak to a specialist broker that can look at your options in full.
What type of mortgage can I get?
Much like other mortgages, with a sole proprietor joint mortgage you can get various different types of products. They basically boil down to 2 different options:
| | |
| --- | --- |
| Fixed rate mortgages | Fixed rate mortgages are the most common type of residential mortgage. They offer a fixed rate of interest for a set amount of time. Usually these products last for 2, 3 or 5 years. This type of mortgage will often have an early repayment charge if you try to leave the mortgage during the initial period. |
| Variable rate mortgages | Variable rate mortgages may be called discount, capped, tracker or collared mortgages. They all have different aspects but the main thing they have in common is that they all will vary depending on either the lenders standard variable rate or the Bank of England base rate. This therefore means that they can go up or down depending on what is going on with those rates. Unlike fixed rate mortgages you may find that they often do not have early repayment charges for leaving them early. |
Does a Sole proprietor joint mortgage go on the non-proprietors credit report?
Whilst the non-proprietor is not responsible for the property, they are responsible for the mortgage. This therefore means that the non-homeowner will still get the mortgage showing on their credit report.
This means that should the owner not pay the mortgage, or pay the mortgage late it will show on the non-owners credit report and could affect their ability to get approved for other credit agreements.
How many people can be on a sole proprietor joint mortgage?
Some lenders may only allow 2 people on a sole proprietor joint mortgage. However, some will allow up to 4 people. This can affect which lender is best for you if you need to have 3 or 4 people on the mortgage.
Some lenders also only take 2 incomes into account despite allowing 3 or 4 people on the mortgage. However, other lenders may take up to 4 different people's income, and even allow multiple sources of that income if they have pension, employment, self employment, investment income they could take all of these.
Got a question we haven't answered? Get in touch and we'll answer it and likely add it to this article to help others!
A mortgage article by Mark Robinson – Mortgage & Equity Release Broker